When you run a business, moving it to the Internet is the next logical step when you want to grow, modernize, and future-proof your company. In an increasingly digitized world, the online space is one of the main facilitators of marketing and sales for companies both small and large. No matter the size of your operation, taking your business online is relatively inexpensive and is sure to yield benefits.
In this guide, we have information on how to plan the business transition and how certain business functions will operate when you can take them online. You'll find these different sections below:
Where To Start?
Create A Business Strategy
Figuring Out How To Get Product Online
Build Your Website
Optimizing Your Website
Choose A Reliable, Easy and Secure Payment Method
Move Accounting Operations Online
Find Ways To Connect With Customers Online
Emailing Customers
Get Inspiration From Businesses Already Run Online
Moving Business Online For Good
Throughout this guide, you will also find links to relevant materials. This allows us to provide more comprehensive information for those who want to read even deeper into certain topics or strategies. It also allows us to back up any claims so you can be sure the information you're receiving is accurate.
Let's start at the beginning – where do you start when migrating a business online?

To get started, you need to have a business first. If you're here, you probably already have one but, if not, you'll need to get established first. Of course, creating your business online from the start is also an option but for that, you'll want guides with more e-commerce or SEO focus.
Assuming you have your own business already, you should have your financials in order. By expanding your business online, you're introducing more complexity to your business that you must be prepared to handle. You should be within your operating budget and debt-free before you look at expanding your business. While expanding your business into the online space is often cheaper than expanding a physical location, it's still good business practice to have a stable business before you try any drastic changes with it.
Aside from business 101 knowledge and the experience of running a company, you should have basic Internet literacy. You can't move online if you don't know what you're doing, so having somebody at the helm who knows their way around the Internet and Internet business-related materials is a good start. Marketing is very important to an online business and you should know how the Internet changes the game.
If your business already has a social media account, you've already taken a first and valuable step towards optimizing your business online.
Create A Business Strategy

You'll need a plan of attack to make your transition online as smooth and efficient as possible. If the idea of assembling a business plan is daunting, there are templates and programs online that can help you organize your thoughts and business goals. As for the content of the business plan, we've identified four fundamental aspects that should be a part of any strategy.
Your digital expansion strategy will only be as strong as the budget you assign it. That doesn't mean you should throw all of your budget toward the expansion since that seldom results in an efficient, profitable business. You need to find the balance between the budget you need for your online company and the liquidity your company should retain to stay stable and afloat.
Then you need a strategy on how that budget is going to be allocated. You need to find which avenues you can invest in that will yield the highest returns for the least investment. That way, you can stretch your budget even further while avoiding pursuing low-quality investments that will waste your time and money.
Marketing is the backbone of any business but, on the Internet, it is so much more important. The search engines we navigate the Internet with are massive marketing tools that, when prompted, show us the most relevant advertisements. While many sites are non-profit or not owned by active businesses, your site and the site of your competitors will be, and you'll all be competing for the attention of web surfers.
The stronger your market research, the more effective your marketing can be. Through the Internet, you have access to an international audience, so you'll want to parse that crowd down. By determining the buying motivations of your customers, you can figure out which demographics make up your audience and all the things they have in common.
Identify forums where your ideal customers congregate and join their forums, speak their language, and convince them to do business with you through relevant and helpful advertising. Another old-school marketing tactic is to observe your competitors and see what they're doing right and doing wrong. This has been used for centuries but nowadays, through the Internet, it's easier than ever to check out what your competitors are doing with their businesses.
Brand culture is pretty strong nowadays, no doubt helped by the rise of the Internet, social media, and the trendy smartphones that everybody uses to access their social media accounts. In an attempt to stand out from competitors, businesses need to have a coherent, memorable, and unique brand now more than ever.
You have no shortage of examples to draw from. Since the early 2000s, we've seen companies find success in the digital space through savvy brand development. From viral marketing ads to the simplification of complex logos over time, businesses have honed their online presence to be instantly identifiable.
You have to do this too. Your business may already have a name but now is the time to consider a change, assuming you can come up with a simpler, more recognizable name that tells customers what your business is in fewer words. You'll want a color scheme and a font tied to your business and a logo that's creative yet simple enough to sit on somebody's phone screen and still be perfectly legible.
Creating A Consistent Brand Experience
Once you have a brand identity figured out, you want to keep it consistent. You should keep the same brand voice and iconography across your entire business activities, such as:
Your website
Advertisements
Social media accounts
Phone apps
Business vehicles
Product packaging
All of them should share a consistent color palette and a distinct voice when sending out business communications.
A consistent brand experience is easy to recognize for your customers, which is where brand loyalty comes from. By fostering a consistent online identity that catches people's attention, you can turn that attention into real-world business to drive sales and profit.
Figuring Out How To Get Product Online

Once you've spared a thought for your online brand, you should start thinking about what you're going to sell. A pre-established business will already have a product catalog, in which case you need to figure out how to get them online. If you offer a service instead, you need to figure out how online functionality will help with the planning, allocation, and delivery of those services to paying customers.
The translation process for selling products offline to online can be pretty simple. If you're offering products then you should look into establishing an e-commerce store where you can list, display, and sell your products. If you offer a service that would typically require in-person meetings, the meteoric rise of companies like Zoom in the last year can allow you to facilitate meetings entirely online. This also widens your reach, so you can take your service internationally if online consultations are all you need.
Other businesses won't have as smooth a transition. Restaurants, for example, rely on in-house service to drive profit. In 2020, many restaurants had to adapt to food delivery by incorporating apps or selling certain food products on-site. This is an option for that example, albeit a limited one.
The pricing structure of your products will typically stay the same after moving online, with an additional charge for delivery since you'll have delivery costs to contend with. For services, however, you may need to change how you price things. Online consultations are going to cost less than an in-person one, after all.

As we mentioned above, you're going to need a website. A website will be the main hub of your online business dealings. It's best to have a website that you own and manage, that gels with your brand image while delivering information and products/services relating to your company.
Think of your website as digital real estate, an investment that must be tended to so you have a stronghold whose value appreciates as time passes. If you're thinking about taking your business online, you need to get your own website. If you have a website, now is the time to look at optimizing it, which we've discussed in the next section below.
We're not expecting you to become a web developer overnight, however. You may be lucky to have a developer on your team, or you have the liquidity to pay a freelancer to build a website for you. If you do learn yourself, you're improving your skillset and investing in yourself.
You can also host your website on a website provider, as long as they're cheap and there's no risk of running afoul of their terms and conditions. They come preloaded with templates that you can fill in, and you can drag and drop fields around to decide where text or images will go. They're functional and economical when it comes to your time since they allow you to set up a site in no time.
If money is an issue, you may want to host a website through a service and then upgrade to a purpose-built website once you have more funds and a dose of e-commerce experience.

Just as important as owning your website is optimizing it, so people can find it when they go searching online. Whether it's a pre-existing site or a website you've just made after looking at our guide, you'll need to optimize it before it draws in the crowd.
This means becoming intimately familiar with SEO, or Search Engine Optimization, which allows you to make your website more attractive for Google algorithms. This means you show up when people search for words relevant to your business and the products you offer.
Your website should still carry forward the same brand experience as the rest of your business communications. This means that the UX, user experience, of your site should also be uniform and make sense in the context of your online presence.
The design needs to look good while directing people to the good stuff, informational, and sales areas of your site that tell visitors what they need to know and turn them into customers. Nobody wants to be met with a wall of text or a labyrinthine link structure when they first arrive at a new website.
The website needs to do its job. If it's an e-commerce store then you need to be able to list products effectively. The listings need to be informative but not swamp visitors with information, but the sale is all that matters at the end of the day.
You need to close a sale and e-commerce sites that don't make sales are ultimately nonfunctional. The site should have a checkout section where you, as a visitor, can add products and then securely pay for them. This must be the most secure part of your site since this is where you or your customers could be defrauded.
You also want prompts to give an email or some other contact information. This is great for service sites where you can then catch up with them and arrange a consultation or some real-world work to be done at the person's premises. That data needs to be secure, so your customers' emails aren't pilfered and sold to data collecting agencies.
Your website should also be responsive to the different ways that visitors will load it. There's a whole collection of old websites from the late 90s and early 2000s that have terrible layouts and can't be displayed on handheld devices. That's unacceptable for a website in 2021 that's still being tended to.
Your website needs to optimize for smartphones and tablets. These have become a massive driver of online activity. In the first quarter of 2021, smartphone users made up approximately 54.8% of website traffic. By not properly optimizing for smaller displays, you could be losing out on half of your potential site traffic, and so half of your potential sales.
Tell your developer that you want a responsive design that works with both desktop and handheld formats. If you're using templates, you can get responsive templates that will do the same.
Choose A Reliable, Easy and Secure Payment Method

Here's some more information on payment processors and how they should work when incorporated into your business website. Customers won't buy anything if they have no confidence that purchases through your site are safe. Nothing kills trust faster than a threat to somebody's hard-earned cash.
A good payment process will do three things:
Handle, process, and protect your customers' sensitive financial information.
Inspire trust in your customers that their data is secure throughout the payment process.
Work promptly so that the purchase goes through, satisfying the customer, and the money reaches you faster.
Many e-commerce hubs offer all three of these for aspiring online businesses. You can benefit from their security and data encryption without having to build that technology within your business, as that's out of the ability of most startups. Third-party options that slot right into your site are also available. Failing those options, you can even go to other online marketplaces and set up an account, with links to that account on your business site and social media.
As one of the dominant e-commerce providers in the world, Shopify enables small businesses to set up a store complete with point-of-sale payment processing systems. While you can tinker with the displayed URLs, there's only so much customizability that comes with a Shopify store and you'll need to have a registered account with them to use.
If you're a small business that is going to struggle with setting up a dedicated site, a Shopify page might be what you need to get the ball rolling. You can make money by linking this page via social media and marketing attempts to generate traffic and make sales.
This longstanding online payment system allows users to send electronic cash quickly and conveniently. With a PayPal business account, you can set up checkout integration so that customers can pay through this service.
Those who use PayPal are confident in its security and convenience, so you won't have to worry about generating user trust in a homemade checkout system anymore.
Square is a digital payment company much like PayPal that can also be integrated into your website. They use what is called their Payments API to process credit and debit cards from your customers, all executed on-site so that the customer is never spirited away to somebody else's webpage.
Etsy is an online marketplace that is often associated with fan-made products of different IPs, though it's also used by burgeoning online businesses. Most of the items on there are handmade or vintage but, if your site sells similar craft products, you can use Etsy to your advantage by making an account and linking it to your brand's online presence.
Everybody knows eBay, one of the first and most enduring names in online e-commerce's short history. A recognizable eBay page can be the perfect link to place during your online marketing attempts.
Like PayPal, it's an old and trusted name that many online shoppers already have an account with, so it's very convenient and not tainted by security doubts. For many consumers, there's also something more intimate about eBay since most sales on the site are consumer-to-consumer, just people selling things to help each other out.
Move Accounting Operations Online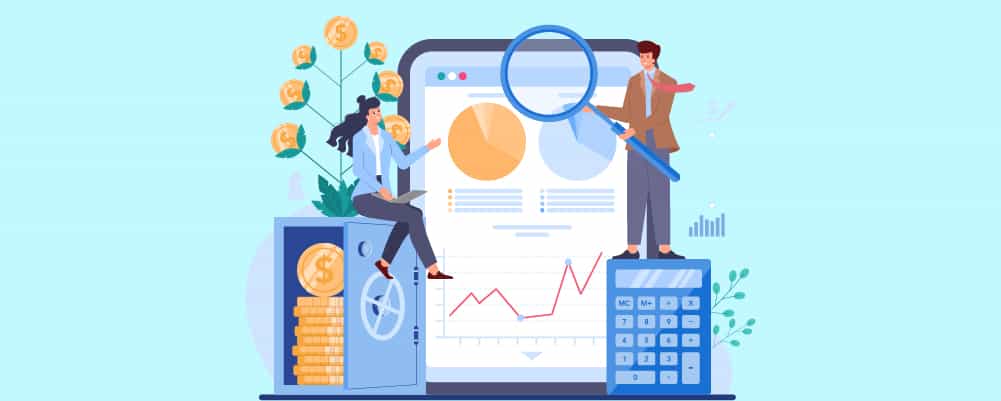 An optional step here is to move your entire accounting process online. Managing payments is one thing but bringing the whole finance system online can make your business run much smoother.
Some services manage the business accounting, so we'd advise that you check those out and see if they're feasible for your planned business ventures. Platforms like FreshBooks can make finance and invoice management much easier while securely storing all relevant data. They can even sync with checkouts and manage customer payment processing.
Find Ways To Connect With Customers Online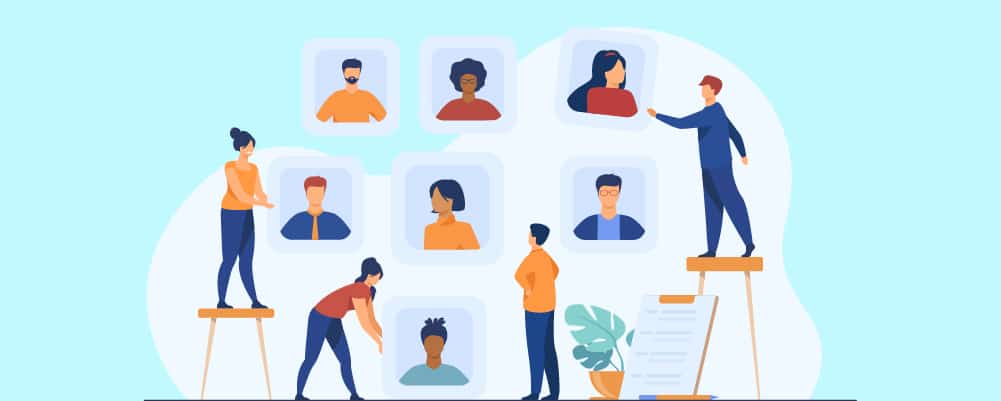 Branching into the online world is all about connectivity. You, as a business, need to find your footing online and then make yourself as visible and connectible as possible so that people see you, like you, and then follow your company. There are so many ways to do this, not counting the ones that haven't been invented yet, but here are some that are worth trying right now.
Online marketing and social media are almost synonymous at this point. Through it, you can find people across the globe who congregate in online forums based on shared interests. If your business caters to a shared interest, then your marketing process will be less like catching butterflies with a broken net and more like shooting fish in a barrel.
Decide on the most appropriate social media to set up:
Reddit and Facebook are great for groups dedicated to certain niches.
Instagram is great if you need to show off products/services on a visual medium.
YouTube is great for service-based informational content, product explainers, or advertisements.
Digital advertising ruled the roost before the rise of social media. This is where you spend some advertising budget on Google AdWords or other paid ad schemes to get your business in front of people. This works through banners on websites that sell the ad space and can be perfect for targeting specific groups. Targeting a subreddit who would be interested in your product is a textbook example of digital marketing.
Neighborhood apps are great for conducting some local SEO. This is where you let people know how to find you on a local level now that you're established as an online entity. Join neighborhood apps or community Facebook groups to let your local consumer base know that you now have an online presence. This can jumpstart your traffic for the first few months of online operation.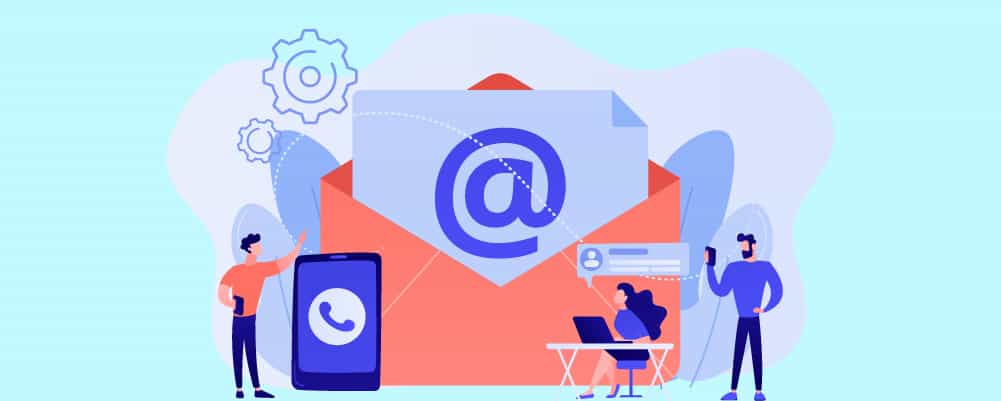 Your communication with customers doesn't need to end when they checkout. All the best e-commerce sites send follow-up emails and other promotional content, why is that? They're not doing it out of the kindness of their hearts, they're doing it because it incentivizes future purchases.
A sale on your site should be treated as a foot in the door. If you continue to foster that connection through email marketing, you can get even more from each customer through repeat purchases.
Add a prompt on-site to harvest emails from those willing to give them or offer incentives to make an account that requires an email when setting it up. MailChimp is an older name in the email marketing business that can help you get started.
You can also use your email service to solicit feedback from customers. A small business has a great advantage over larger ones in that they can act on feedback more promptly and with a more personalized response to those who have criticisms. Embrace this and get the crowd's opinions. They will tell you how to better market to them!
Offer Incentives To Shop Again
This is the main function of email marketing. Nudging somebody's inbox only works with a few people but many more will be attracted to your business if you offer a code or a discount, or tell them about a sale, all of which save them money. If they return to your site and make another purchase, they may save some money but they've also given you yet another sale to add to the revenue pile.
Check your inbox. How many drab and indistinct emails have you got from sites you've shopped at or accounts you set up to make one purchase nearly two years ago? This is the case for many people and so, like with anything in the online world, you need to stand out.
Try to be different with your email decorum and switch up which emails you're sending. Don't spam the same sad emails begging them to come and try a product. Instead, send different ones from the last email you sent each time. Inquisitive minds will notice a break in the pattern and that makes them more likely to click.
And as a reminder to finish off, your emails should also follow your brand's identity! The voice, certain fonts, logos, colors, should all be consistent with how your brand is portrayed in other online spaces. If the customer gave you their email, they want to feel like they're getting an email from your company, not a cookie-cutter sales message from that business they trusted a few hours ago.
Get Inspiration From Businesses Already Run Online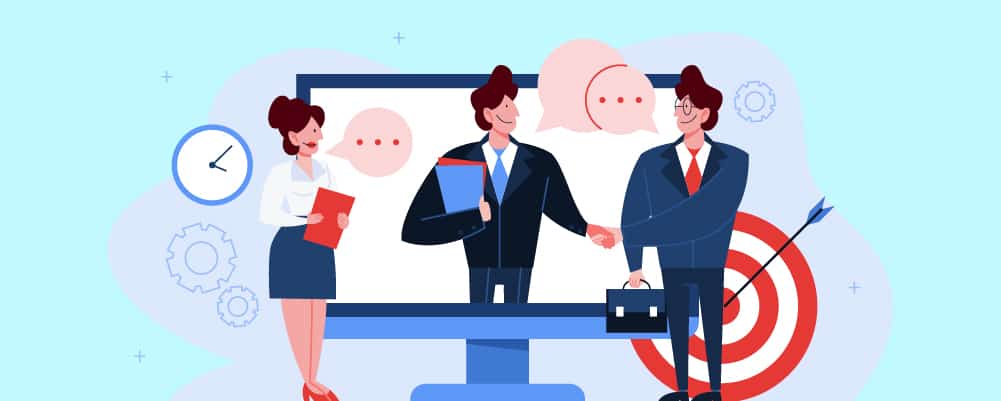 Two decades into the 21st Century, it's not a novel idea to take your business and move its operations online. You're not the first, but that means you benefit from the stories and experiences of thousands of other businesses that have made the journey before you.
You're not going toe to toe with the larger competitors within your chosen business sphere, but you can learn from them all. Let your supposed competitors inspire you to success instead.
If you're better at remembering faces over names, maybe identify some successful online entrepreneurs and follow their lead instead. Learn what they're doing and how it works for them and then try and incorporate those practices into your own business, and even your own life.
Buying Products From Alibaba To Resell On Amazon
One form of business that has become successful in recent years is buying products from the Chinese e-commerce company Alibaba and then reselling them on Amazon for a profit. This is a type of drop shipping that carries less risk and fewer overhead costs for entrepreneurs who are trying to get online businesses off the ground.
Through services like Oberlo, you can learn more and use storage services, so you don't even need to physically manage the transport of products that you resell on Amazon.
Moving Business Online For Good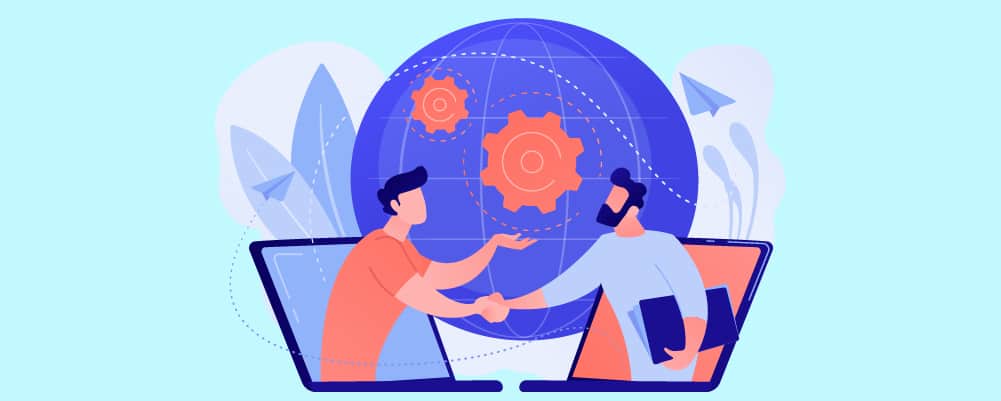 After you've put a lot of the following practices into place, there'll come a time to ask yourself if you're staying exclusively online. Maybe that was your goal from the start, or maybe the challenging year we had has forced you to consider online alternatives. For many, the so-called "brick and click" model works, where they have a few select locations but conduct a lot of business online.
Only you have the answer here. Knowing how to migrate online can serve your business well, so you need to decide if a physical business is too much of a burden on your time and finances. Don't rush into anything, you could try the brick-and-click method and, if you find success online, move all of your resources to that front instead.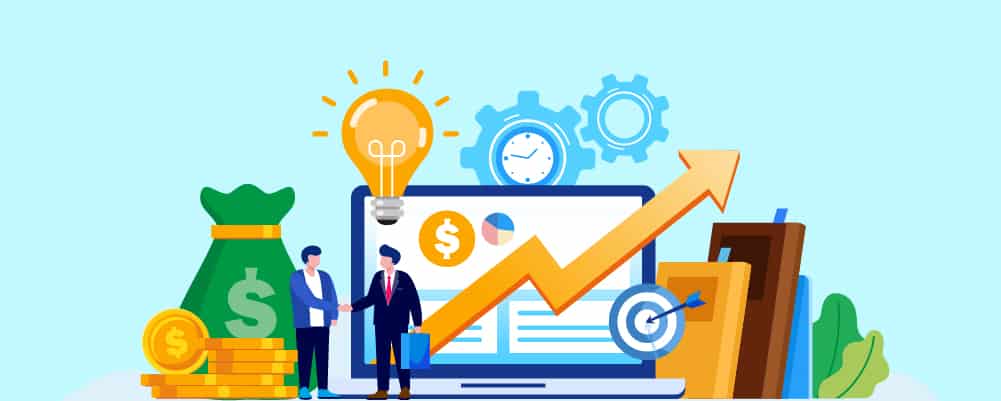 That brings us to the end of our guide on migrating a business online. We've covered the fundamentals that everybody should know before throwing themselves out there, so we trust that you'll make your own luck. Setting up online is a process, so feel free to use this guide like a checklist and work your way down until everything is in place. Once it is, you should be in the best possible position you could be for finding online success.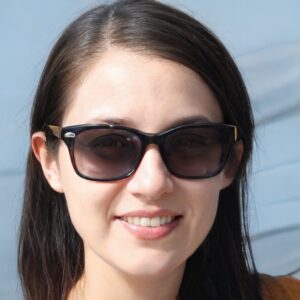 Emily Wilkinson | Media Executive
c: Uniway Sourcing